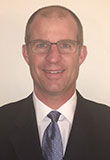 JEFF F LANTERMAN
Attorney At Law
Certified by the State Bar of California Board of Legal Specialization Workers' Compensation Law
EDUCATION
JEFFREY LANTERMAN received a Bachelor of Arts Law and Society and graduated with honors from the University of California at Santa Barbara. He received his Juris Doctor from Santa Clara University School of Law and was admitted to the State Bar and the Federal District Court, Northern California shortly after. In 2015, Mr. Lanterman became a Certified Specialist Workers' Compensation Law through the State Bar of California Board of Legal Specialization.
BACKGROUND
Since admitted to the State Bar, Mr. Lanterman has exclusively practiced Workers' Compensation law and has done so for over 16 years. He has experience handling all aspects of litigation, from inception through resolution and has appeared before the superior court in subrogation proceedings. In addition to independently managing his own caseload, Mr. Lanterman served on the education committee for the Association of Workers' Compensation Professionals from 2007-2015. Mr. Lanterman is an accomplished public speaker, having presented many Workers' Compensation seminars on topics such as Rating Subjective Disability, Introduction to the AMA Guides, MPNs and Medical Treatment Liens.
Additionally, Mr. Lanterman brings years of related experience from the business sector as a former physician educator, Director of Operations for a Medical Group, and the Executive Director of a Medical Provider Network. His industry knowledge accompanied with his years of litigation experience make him an incredible asset to our firm.
Mr. Lanterman is an associate in the Sacramento office of Samuelsen, Gonzalez, Valenzuela and Brown.
PUBLICATIONS
Workers' Compensation Quarterly, "Alcohol and Accidents: Revisiting the Intoxication Defense," Vol. 21, No. 3