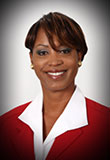 JOI ANDERSON
Attorney At Law
EDUCATION
JOI ANDERSON completed her undergraduate education at the University of California, Los Angeles, where she received a Bachelor of Arts in History. She continued on to receive her Juris Doctor from the University of West Los Angeles and was admitted to the State Bar of California soon after.
BACKGROUND
Ms. Anderson has been practicing Workers' Compensation for over 20 years, defending self-insured employers, third party administrators and insurance carriers in all phases of litigation. She is a seasoned litigator whose superior negotiation tactics and problem solving abilities have helped her achieve many favorable decisions. Over the years she has handled a variety of claims, including 132a and S&W cases, and has appeared at many of the Southern California and Northern California Workers' Compensation Appeals Boards. Ms. Anderson strives to cultivate strong relationships with her clients and works hard to obtain cost effective results that align with her client needs. In addition to independently managing a heavy caseload, Ms. Anderson has assisted her previous firms in the area of business development where she worked with managing partners to create strategies that would increase business firm-wide.
We are pleased to have Ms. Anderson as an associate in our Encino office.