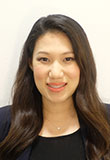 JOYCE P. LIM
Attorney At Law
EDUCATION
JOYCE P. LIM received a Bachelor of Arts in English Literature from the University of California, Los Angeles. While at UCLA, Ms. Lim was Provost Honor's List and a Dean's Honors Scholar and was recognized by the National Society of Collegiate Scholars for her academic achievement. Ms. Lim received her Juris Doctor from Loyola Law School, where she continued to excel academically as a Dean's Honor List Scholar and as a recipient of the Loyola Academic Scholarship. While in Law School, Ms. Lim served as a Staff Member for the Loyola of Los Angeles Law Review and was a student member of the Korean American Bar Association. She was admitted to the California Bar shortly following graduation.
BACKGROUND
Ms. Lim began her career working as a personal injury attorney for a firm in Pasadena. As an Associate, she handled a wide variety of claims and gained experience in settlement negotiation, drafting legal documents and propounding and responding to discovery. She also assisted senior counsel in trial preparation by monitoring case plans and preparing trial exhibits.
Ms. Lim then shifted her practice to Workers' Compensation defense and has represented employers, insurance companies and third party administrators for over five years. She has experience handling all phases of Workers' Compensation litigation from AOE/COE issues to lien negotiation and has appeared before many of the Southern California Workers' Compensation Appeals Boards. Over the years, Ms. Lim has adopted an aggressive and cost effective defense strategy, which has resulted in many early settlements and taking nothing awards, including on denied AOE/COE claims. In addition, she has successfully obtained numerous nuisance value settlements at depositions and hearings to help minimize client costs. Ms. Lim is a firm believer in the importance of early resolution and strives to resolve cases in a manner that is not only expedited but cost effective for her clients.
We are pleased to have Ms. Lim as an Associate in our Newport Beach office.