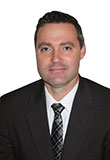 NICHOLAS E. WALTON
Attorney At Law
EDUCATION
NICHOLAS E. WALTON received his Juris Doctor from Whittier Law School where he was recipient of the Dean's Merit Scholarship. During his time at Whittier, Mr. Walton also received a Certificate in Intellectual Property Law and was a member of the Intellectual Property Society and the Entertainment/Sports Law Society.
BACKGROUND
Prior to practicing Workers' Compensation Law, Mr. Walton worked as general counsel and office manager for a Sports Agency where he provided legal services for clients such as setting up LLCs, trademarks, P-Visas, foreign visas, IRS agreements and local athletic compliance. In addition to sports law, Mr. Walton also has experience handling criminal defense, personal injury and real estate claims.
Since then, Mr. Walton has exclusively practiced Workers' Compensation Defense and has received several "Take Nothings" at both case-in-chief and lien trials. He has successfully represented clients in all phases of litigation including hearings, depositions, doctor cross-examinations, trials, lien resolution and contribution. Over the years, Mr. Walton has adapted very aggressive and proactive approach, which has led him to achieve favorable results through litigation and early settlement.
We are pleased to have Mr. Walton as an associate in our Encino office.