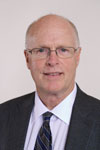 SCOTT A. NICHOLAS
Attorney At Law
Certified by the State Bar of California Board of Legal Specialization Workers' Compensation Law
EDUCATION
SCOTT A. NICHOLAS obtained his Bachelor of Science Degree in Political Science from the California State University, Long Beach in 1978. He received his Juris Doctor from the Western State University, College of Law in Fullerton, CA and was admitted to the California Bar in 1985.
BACKGROUND
Mr. Nicholas has more than twenty years experience in Workers' Compensation Defense, Serious and Willful Misconduct claims, and 132(a) claims. Prior to becoming a practicing attorney, Mr. Nicholas worked at Xerox Corporation where he received numerous awards for his performance as a data specialist. As an attorney, Mr. Nicholas has represented self-insured employers, insurance companies and third party administrators in Workers' Compensation Defense since the beginning of his career in 1985.
Mr. Nicholas has had cases published in the California Compensation Cases to include the case of Nadine Melnyk, which set the precedent in connection with treating non-industrial conditions. This case was favorable to the defense.
Mr. Nicholas became a partner in the law firm of Benthale, Nicholas and McKibbin in 1997. As a partner, Mr. Nicholas had numerous interactions with clients. He was involved in the administration in the office and preparing request for proposals for clients among many other tasks. After retiring his partnership, he joined the Newport Beach office of Samuelsen, Gonzalez, Valenzuela and Brown in 2007. He now is the managing attorney for our Corona office.