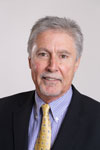 DAVID UTLEY
ATTORNEY AT LAW
EDUCATION
DAVID UTLEY graduated from Whittier College in 1973 with a Bachelor of Arts degree in Political Science, obtained his Juris Doctor degree from Western State University College of Law in 1977, and has been a member of the California Bar since 1978.
BACKGROUND
Mr. Utley has forty-six years of personal injury and workers' compensation trial and litigation experience in California and Federal court venues. He has expertise in the litigation of claims arising under the Longshore and Harbor Workers' Compensation Act, Defense Base Act, Outer Continental Shelf Lands Act, Nonappropriated Funds Instrumentalities Act, and the California Workers' Compensation Appeals Board. He has additional experience handling subrogation claims in multiple forums.
He served as a Court-appointed Mediator in personal injury lawsuits for the Los Angeles County Superior Court from 1999 to 2014 and prior to that time upon that court's Arbitration and Settlement Conference volunteer panel. He has been an invited speaker at the 2009 Northwest Longshore Claims Administrators Seminar, 2010 Longshore Claims Association Seminar, 2012 Chartis Defense Base Act Seminar, 2013 Signal/LCA Maritime Conference, 2014 Annual Loyola Longshore Conference, 2016 Advance Consulting Inc. DBA Conference, 2019 and 2022 Longshore Claims Association seminars. He is available to serve as a Mediator in association with Longshore-DBA Mediators, Inc.
Mr. Utley has received a "AV- Preeminent 5.0 out of 5″ Martindale-Hubble Peer Review Rating for the past 26 years. Following a thirty-two-year career representing injured workers, he was invited to come to Samuelsen, Gonzalez, Valenzuela and Brown in 2011 where his focus is upon the defense of Longshore and Harbor Workers' Compensation Act, Defense Base Act claims, and the representation of the subrogation interests of employers and carriers.