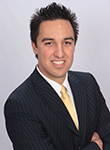 JONATHAN LUNDGRIN
Attorney At Law
EDUCATION
Jonathan Lundgrin received his Bachelor's Degree in History from Walla Walla University in Washington and his Masters of Business Administration from La Sierra University. He obtained his Juris Doctor from the University of San Diego Law. Mr. Lundgrin was a McLennon Moot Court Honor participant and wrote for the San Diego Journal of Climate and Energy Law.
BACKGROUND
While in Law school Mr. Lundgrin worked as a law clerk at the San Diego County Office of the Public Defender. He also was a Legal Intern at the Los Angeles City Attorney's Office where he acted as a trial attorney and prosecuted a DUI trial with a guilty verdict.
Since passing the California State Bar, Mr. Lundgrin has gained experience handling workers' compensation and personal injury cases. Mr. Lundgrin's strategic negotiation skills have led him to many successful and cost-effective settlements for his clients. Mr. Lundgrin has appeared at and gained useful working knowledge of all the Southern California Workers Compensation Appeals Boards as well as a vast majority of the Workers Compensations Judges. Mr. Lundgrin's criminal and civil trial experience provides him with an effective and assertive deposition technique that he has utilized when deposing many AME/QME physicians and hundreds of applicants.
Mr. Lundgrin has obtained multiple "take nothing" decisions at
AOE/COE Trials and Lien Trials.
Jonathan Lundgrin is an associate in our Newport Beach office.